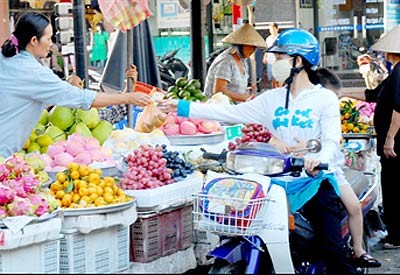 The information on internet and sent to mobile phones  via text message that  Chinese fruits containing perservatives  that will destroy human organs  is not correct
Following rumors that Chinese fruits containing preservatives will destroy human organs if consumed, a health official has said the information is not correct. The rumor was circulated recently on the Internet and sent to mobile phones via text messages in Vietnam.
Le Thi Hong Hao, deputy head of the National Institute for Testing Food Safety, said the rumor is not true. Preservatives are used for protecting fruits and vegetables from rotting and to increase their shelf life, she said, but they will not harm human health in the manner suggested in the reports.
Preservatives are allowed for use in foods in Vietnam and though some unscrupulous traders may overuse the chemicals, health officials say they will not destroy human organs.
Ms. Hao warned people, however, to choose fresh vegetables and fruits and wash them under strong tap water to rinse off any chemicals.