Health officials are becoming more worried as to why an increasing number of people are becoming infected with the A/H1N1 influenza virus despite no clear source of transmission.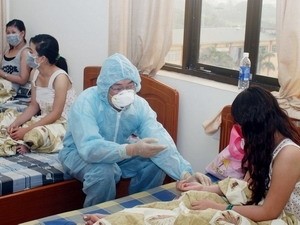 A medic is examining infected flu people ( Photo: VNA)
A large number of people have neither been in direct contact with infected people nor visited pandemic zones, including getting in touch with the communities.
Officials are concerned that the incubation period for the H1N1 virus could kill victims at any time.
For instance, the second fatality in Vietnam, a 52 year old woman from District 10, HCM City, presented no clear signs of the flu nor possible contact with infected people. As such she was transferred from hospital to hospital without health workers suspecting she had contracted the virus.
It is a concern to health officials that the virus may be mutating into a more virulent and deadly form.
In related news, health workers from HCM City's Binh Thanh District's Center of Preventive Health have disinfected the accommodation of a suspected third fatality, as well monitoring her relatives' conditions.
They have also told neighboring residents how to prevent the flu.
The city's Department of Health September 6 recorded an outbreak of swine flu at Dong Du Language Training Center in Tan Binh District, with three infected students and a further 34 having been isolated.