An unidentified skin disease spreading in the central province of Quang Ngai since last year has killed one more person last week, bringing the total number of fatalities in the first fortnight of April to four, said a medical official on April 10.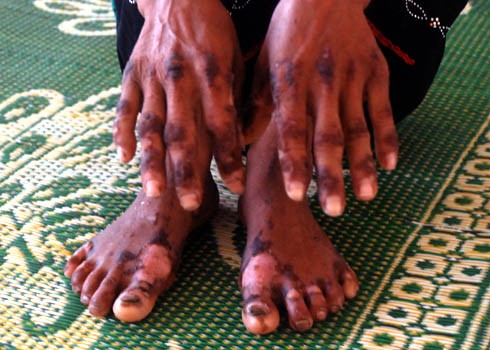 Most patients suffer from such symptoms on their hands
Dr. Dang Thi Phuong, director of Ba To District Medical Centre, confirmed that 4-year-old Pham Ngoc Nhi from Lang Rieu village in Ba Dien Commune died of the unidentified disease at the Quy Hoa National Leprosy Dermatology Hospital on April 9.
Nhi is the fourth patient to have died of the disease within the first fortnight of April. Since the beginning of the year, seven people have died in the province from this unusual and as yet unidentified skin disease.  Their deaths were caused by multiple organ failure, such as liver damage.
According to Dr. Phuong, since the beginning of this year, 63 people have suffered from conditions like stiffness in the limbs and ulcers on hands and feet, that resemble severe burns and flaking of skin. Three patients are still in critical condition.
Last year the province recorded more than 150 people with similar symptoms.
While Vietnamese health authorities have yet to identify the disease, the Ministry of Health has approved a regimen for diagnosing and treating the condition.
Under this protocol, mild symptoms can be treated with ointments, anti-inflammation drugs and vitamins, together with a dietary regime and liver supplements.
Those with severe symptoms, including liver damage, have to be admitted to hospital for treatment.
The regimen also advises people to wash their hands and feet after coming back from the fields, and avoiding direct contact with pesticides and other such chemicals.
A mission team from the Ministry of Health will arrive in Quang Ngai Province and Ba Dien Commune on April 13, to check on areas where most of the patients were reported, to study the cause and development of the disease.