The unknown and bizarre skin disease has taken one more life in Ba To District in the central province of Quang Ngai on May 7.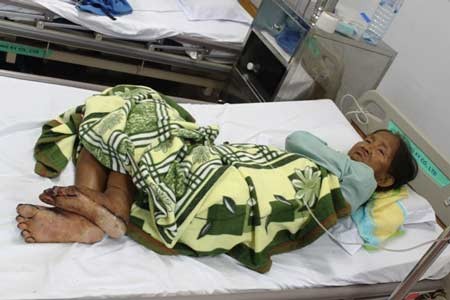 A patient suffering from the unknown and bizarre skin disease being treated in district medical center
Pham Thi Tien, 56, from Reu Village in Ba Dien Commune was being treated in the District Medical Centre ever since she was infected with the strange skin ailment that has been plaguing people in the region.
However, just before she died, her family members took her home as her condition and deteriorated and there was not much that doctors could do.
Currently, 31 people suffering from the disease are being treated in district and central hospitals, out of which four are in critical condition.
The local medical centre announced that besides the 31 patients, 13 more fresh cases were discovered in the first seven days of May in Ba Dien Commune. So far 190 people have been afflicted in Vietnam.
The People's Committee of Ba To District has called for help from the Ministry of Health, the Viet-Russian Tropical Disease Centre and the Ministry of Defence, asking for assistance in finding the cause of the disease. However, scientists from the ministry have not yet identified any cause of the bizarre skin disease.

Related articles:
Ministry issues new treatment plan for bizarre skin disease
Ba To District offers support to victims of bizarre skin disease
'Ricketsia' virus identified as cause of bizarre skin disease
Quang Ngai seeks expert advice on baffling skin disease
Vietnam to seek WHO help to diagnose strange skin disease 
Another succumbs to bizarre skin disease in Quang Nai Province
One more dead from strange skin disease in Quang Nai Province
Bizarre skin disease continues to spread