A 29-year-old pregnant woman from central Binh Dinh Province has died of A/H1N1 influenza, the country's latest fatality due to the disease, the Ministry of Health reported October 17.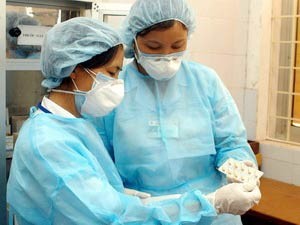 Health workers examine a package of Tamiflu, which is used for treatment of patients with A/H1N1 influenza (Photo: VNA)
The 39-week pregnant woman was hospitalized at Bong Son Hospital on October 10 with fever, cough and breathing difficulties. She died October 15, said Dr. Nguyen Huy Nga, head of the Preventative Health Department. 
Doctors carried out a Caesarean section on the mother to save the baby, Dr. Nga said.
The Nha Trang Pasteur Institute, in Khanh Hoa Province, later confirmed the woman had been infected by the A/H1N1 virus, he added.
This latest death brings the total fatalities from the disease in the country to 24, of which five were pregnant women, the ministry said.
The same day saw 19 more cases of A/H1N1 flu recorded, increasing the total number of infections so far to 10,208, said the ministry.
The upcoming winter season could see an increase in A/H1N1cases, so everyone, especially pregnant women and residents in mountainous or remote areas, should seek medical treatment immediately if they develop symptoms of the disease, the ministry warned.