One more victim succumbed to toxic wine in the northern mountainous province of Lai Chau, bring the death toll in the mass poisoning to nine.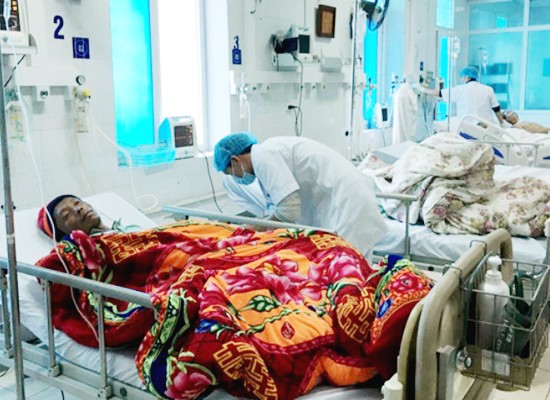 Victims of the mass poisoning incident in Lai Chau are treated in the local infirmary (Photo: SGGP)
Eight of them were dead in a mass poisoning incidentat a funeral in Ta Chai village in Phong Tho district, in which the People's Committee in Lai Chau yesterday said that so far 126 locals were infected.

The last victim is 51 year old man, Cheo Sin Hao, who had left home for his field in the mountain together with others because they thought the commune has epidemic of disease which made many people ill. He took a can of wine which he bought in the commune market.
Later, he was detected to have the symptoms of poisoning and rushed to the province General Hospital for emergency treatment on February 16. Despite of doctors' efforts to save him, he succumbed to it.

In  report issued by the health agency, Phong Tho district recorded 126 wine-related poisoning cases. Administrators in the district encouraged people to throw away 4,800 liter of wine without clear indication of origin. The local government stressed there has been no epidemic in the district and they pledge to increase information of food safety to residents.
The province's health authority said that health condition of victims of the incident in the infirmary is stable.