37 year old Pham Van Hien, one of the 36 tourists from Ha Noi being treated for food poisoning in the general hospital in the northern province of Thanh Hoa, died on June 11.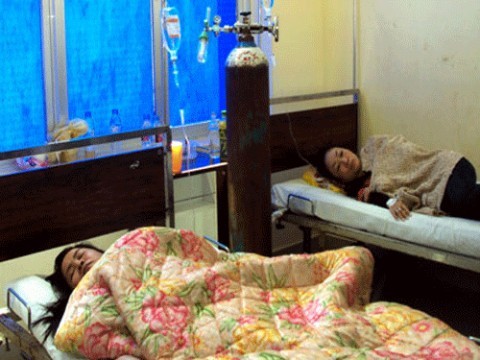 Food poisoned patients in the General Hospital in Lam Dong (Photo: Xa Luan))
The victims had earlier all complained that soon after their evening meal on June 11, they experienced nausea, stomach pains and convulsive fits.
They were rushed to the general hospital in the province, where two persons staying in Phuong Linh Hotel had already been hospitalized with similar symptoms.
Do Quang Vinh, Deputy head of the Department of Health in the province, said that apart from the death of Pham Van Hien, most of the patients have recovered and have returned home. The department will conduct further investigation into the recent death.
Health authorities took food samples from the hotel for testing and forced the hotel to shut down for one week until the test results were confirmed.
Health authorities in the highland province of Lam Dong yesterday said they would conduct joint inspections with health officials of the Food Safety and Hygiene department and Pasteur Institute of HCMC of every restaurant in Da Lat where nearly 500 cases of food poisoning were reported within this month.
Some 439 people suffered from food poisoning between June 1 and June 7, most being tourists from Ho Chi Minh City and the Mekong Delta.
The Health Care Center in Da Lat said that most of the victims had eaten at Tam Chau restaurant on National Highway 20 in Bao Lam district before arriving in Da Lat.
On June 11, health inspectors paid unscheduled visits to Tam Chau restaurant in Bao Loc district and Bao Loc City and some other eateries.

According to an initial investigation they found the well water in Tam Chau contaminated. The restaurant was ordered to shut down on June 10 until health agencies announce the test results.