The life of one-year-old girl, Le Thi Kim Tram, was saved after she successfully received a liver transplant on July 2.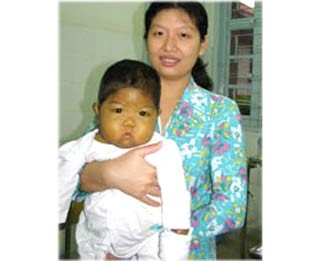 The infant Kim Tram and her mother before the surgery
Le Thi Kim Tram had been suffering from liver failure when doctors at Children's Hospital No. 2 removed the whole of her liver during the nine-hour-long transplant surgery, the fourth of its kind at the hospital.
Tram's mother is also out of danger having recovered from the operation in which she donated 240-grams of her liver to her daughter.
Dr. Tran Van Thao, deputy director of the hospital, said that the patient was diagnosed with congenital bilary atresia, a disease of the bile ducts, when she was just six months old.
Her health is in a poor state having suffered multiple organ failure, malnourishment, lung inflammation and a respiratory disorder.
Professor Tran Dong A, head of the surgery team, stated that good preparations brought a great result. However, he said that the patient is not in the clear yet, she will need an examination on July 7 to check her recovery.
The surgery was carried out with the help of doctors from Belgium and other hospitals.
Over the past two years, prior to Tram's surgery, The Children's Hospital No.2 has successfully performed liver transplants on three children under the age of two, all of which are now doing well.