A huge tumor on the face of Luc Thi Hai, 28, from Thai Nguyen province, was removed after a six-hour operation on July 25, said a doctor of the Ha Noi-based Central Hospital K.
Three members of the family suffer from facial tumor
Dr. Nguyen Quoc Bao, surgeon during the operation, said that the operation saved the patient's life.

Hai is one of five children to have suffered from large facial tumors for dozens of years.

Surgeons transfused four liters of blood in the operation to remove Hai's seven-kilogram tumor, which covered one eye, her entire nose and mouth, and left her unable to chew and breathe. The patient is now in intensive care in a sterilized room where she will remain there for the next three days.

Dr. Bao explained that the patient will now be able to eat and breathe on her own, but doctors will keep a close watch on two small tumors under her jaw and consider possible treatments.

This was the second surgery of its kind at the hospital; surgeons had previously carried out an operation on Hai's eleven-year-old sister, Luc Thi Linh, on July 13. The youngest in the family, when Linh's tumor appeared in March this year her father took her straight to the central Odonto-Maxillo and Facial Hospital in Ha Noi. Linh's case was not as bad as her sister's was; the tumor was only sat on the upper jawbone and did not deform her eyes or skull.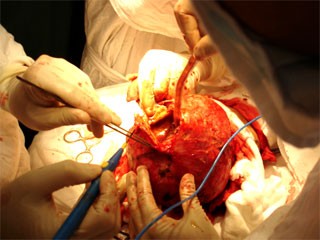 The operation to remove tumor 
Five of six children in the family have suffered from facial tumors; only one male sibling has not been affected.

Each of the five appeared perfectly healthy when they were born, according to their parents, it was only when they were seven or eight years old that the tumors began to develop.

The eldest sister, Luc Thi Moi, born in 1978, grew a tumor in 1990, and then her younger sister Luc Thi Hai (1979) and brother Luc Van Cuong (1985) and Luc Thi Long got the disease.

Their parents, Mr. Luc Van Quan and Truong Thi Nam, have taken the children to various hospitals in the province and in Ha Noi but doctors have been unable to diagnose the problem or its cause.

The rare disease has not been mentioned in medical files and no cure proves effective in treating it.

Luc Van Cuong, who has tumors on his jawbones, is undergoing tests next week at the central Odonto-Maxillo and Facial Clinic. Files on his case and his oldest sister, Luc Thi Moi, will be sent to an overseas hospital and they may receive treatment abroad.

On July 3, Sai Gon Giai Phong newspaper presented the family with VND10 million to spend on breeding pigs and rabbits to raise their income.