Operation Smile Vietnam will provide free dental examination and surgery for children with facial deformities in Hanoi and Hue from March 19 to 29.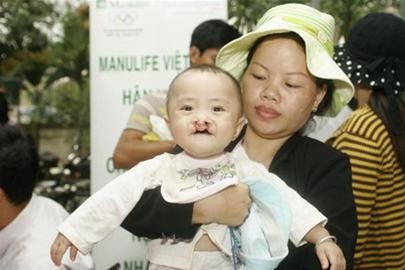 Operation Smile Vietnam changes the lives of children with facial deformities by providing free surgeries and other assistance (Photo :Tuoi Tre)
The NGO said the operations would be performed at the Vietnam-Cuba Friendship Hospital and Hanoi Medical University in the capital and at the Odonto-Stomatological Hospital in Hue.
Dentists will also travel in five mobile hospitals to schools in Thua Thien-Hue Province's Huong Tra, Phong Dien, Huong Thuy and Phu Loc Districts to treat students' oral problems.
Operation Smile Vietnam is affiliated to Operation Smile International, a US-based non-profit organization that runs similar programs in 29 countries.
In developing countries like Vietnam, one in 500 babies is born with a facial deformity, according to reports.
Last year teams of medical and non-medical volunteers from Operation Smile International worked in Hanoi and Hue for its 12th annual dental mission to Vietnam.
They carried out extractions, dental restorations, root canals, and other procedures.
Since 1989 Operation Smile has provided free dental examinations, dental procedures, and life-changing surgery to more than 25,000 Vietnamese children and young adults.
Every person examined under the recent program was given a toothbrush, toothpaste, and education on the importance of oral hygiene.