After press published the hike in optional vaccine price due to scarcity, a representative from the Drug Administration of Vietnam under the Ministry of Health yesterday said that the vaccine price is controlled by market demand.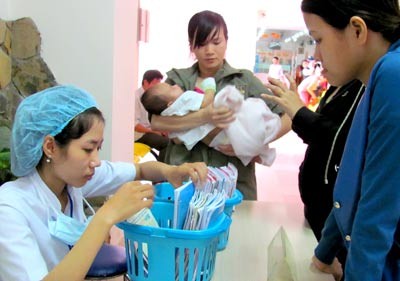 A parent ask for vaccien for their children at a hospital in HCMC (Photo: SGGP)
Nguyen Tan Dat, deputy chief of the Administration said that the Ministry of Health has given permission to circulate many kinds of imported vaccines which have been sold as optional services, not belonging to the national expanded inoculation program; however, the Ministry has just granted permission but it can not ask importers to buy more vaccines from foreign vaccine manufacturers.
The shortage of optional vaccines is due to customers' interest to use foreign vaccine and an abrupt leap in demand, said Mr. Dat.

Meantime, vaccines were manufactured in lots and it takes a long time to produce vaccines; accordingly, manufacturers in the world give priority to early orders.

Mr. Dat said that just foreign-made six-in-one vaccine Infanrix and five-in-one vaccine Pentaxim have been short of lately. With these two vaccines, people have to pay as optional vaccine; accordingly, the government can not urge importers to buy more. Importers just buy the vaccines relying on the market demand.

Nevertheless, the foreign manufacturers announced they are facing difficulties in supply because they change production technology and venue and fluctuation of market. Worse, many vaccine batches turned spoiled; accordingly, it takes 6 months to replace the new vaccine batches.
Moreover, Vietnam has used Quinvaxem for its national expanded immunization program so producers do not give priority to the Southeast Asian.

The Administration said that no importers have announced to increase vaccine price recently.
It is expected that next month, around 16,000 dozen of vaccine Pentaxim will be imported into Vietnam. In addition, 50,000 dozen of Pentaxim are scheduled to import into Vietnam from now to yearend so as to reduce pressure of shortage of optional vaccines in the country.