Prime Minister Nguyen Tan Dung and relevant ministries held a working session with the Ministry of Health to address overcrowded hospitals while the State budget is limited.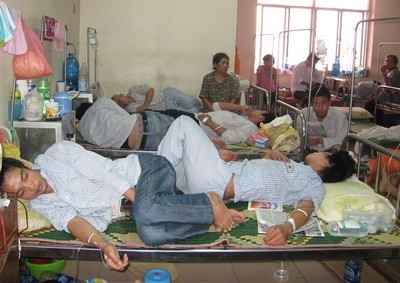 Two patients stay in one bed in Thanh Nhan Hospital in Hanoi (Photo: VNA)
The Ministry of Health reported hospitals at the provincial and central levels have been running at 148.6 percent of their capacity, while those at the district level are 115.7 percent over capacity.
Vietnam has just 18 hospital beds for every 10,000 citizens against the world average of 25 beds, pointed out Health Minister Nguyen Quoc Trieu.
Sharing the ministry's difficulties, Prime Minister Dung offered advanced disbursement of the 2010 and even 2011 budgets to those hospitals with approvable projects in order to put them into operation as soon as possible.
He also assured the ministry of a gradual increase in budget allocations to improve medical checks and healthcare for the poor and increase investment in infrastructure and technology.
Dung also called on the ministry to work closely with relevant ministries and agencies in disbursing Government bonds for hospitals at the district, provincial and central levels in order to make it an effective investment.
"Every effort should be made to catch up with the world average of 25 hospital beds for every 10,000 citizens in the next five years," said the Government leader.
He also approved an initiative raised by the Ministry of Health to intensify investment into Hanoi, Ho Chi Minh City, the central cities of Da Nang and Hue of Thua Thien-Hue province and the southern city of Can Tho to raise them to the level of professional medical hubs.
Dung however called on the Ministry of Health to consider a project on financial mechanisms within this model in an effort to ensure reasonable charges but enough profit to encourage re-investment.
He also asked the ministry to submit a financial mechanism to the Government for approval which would encourage investments from all financial sources into healthcare.
"The Government may extend preferential loans to those investing in infrastructure and equipment so as to help build hi-tech healthcare centres and reduce the overload being experienced by hospitals," he promised.
The Government leader also promoted the expansion of day-care hospitals and family doctors as a solution.