After being diagnosed with late-stage ovarian cancer, a 50-year-old native of Binh Thuan Province went for regular chemotherapy sessions that left her without appetite and debilitated by nausea.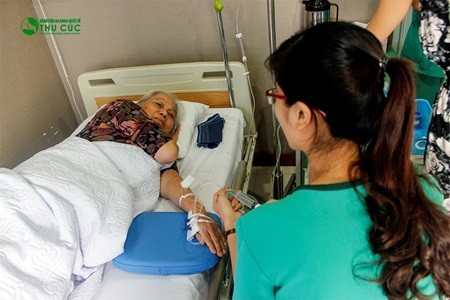 Taking care of cancer patient at Thu Cuc Hospital. — Photo ungbuouvietnam.com
"It was terrible for my mother in the last years of her life. Now she has died," said the woman's daughter, who declined to be named.
Dr Than Ha Ngoc The, head of HCM City University Medical Centre's geriatric and palliative care ward, said that she had a number of relatives who also suffered greatly after late-stage cancer diagnoses.
She believes that patients like her family members would profit from palliative care, which she argues focuses on increasing their comfort and spares them from suffering unnecessarily painful treatments.
According to the World Health Organisation, the main goal of palliative care is to treat pain and other psychosocial and spiritual problems to improve the quality of life for patients with chronic diseases or late-stage cancers, and their families.
In Viet Nam, about 150,000 diagnoses of cancer occur annually with 70 per cent of them in the last stage, according to Viet Nam Cancer Society.
Of the 40 million people worldwide who could benefit from palliative care because of cancer and other chronic diseases, only 14 per cent receive such care.
The proportion is even lower in Viet Nam, a developing country with rapid urbanisation and increasingly unhealthy lifestyles.
The Ministry of Health tried to encourage the practice by issuing palliative care guidelines for cancer and AIDS patients in 2006, but so far only 13 hospitals have palliative care wards or have implemented programmes. HCM City Oncology Hospital, University Medical Centre and Ca Mau General Hospital are among the few who have.
Viet Nam ranks 58th on end-of-life care on the Economist Intelligence Unit's 2015 Quality of Death Index, which ranks palliative care across the world. The UK ranks first in the index; it integrates palliative care throughout its national health service. "There is even evidence to suggest that palliative care not only enhances quality of life in some cases, such as lung cancer and end-stage breathlessness, it can even extend life," the index report said.
The report also said that such an approach to care eases the burden on healthcare systems, recommending the practice be adopted worldwide.
Dr Ronald Sand of Harvard Medical School's Centre for Palliative Care said that modern medicine had helped cure and prolong life, however finding a cure was not always possible. Caring for suffering and not just finding cures was vital.
Patients in palliative care are told how long they have to live and what will happen before they die, helping them prepare for death and die in better spirits.
At HCM City University Medical Centre, The said doctors and nurses must be trained to communicate with these patients.
The palliative ward at the hospital has 30 beds available for patients in their last stage. However, The said that ideally palliative care should be provided in patients' homes. The ward plans to start a programme in the near future.
Home-based care
At the HCM City Oncology Hospital, an at-home care model was started in 2011. Similar models are also used at a few other hospitals in Viet Nam.
To Minh Nghi, head of the oncology ward at Ca Mau Hospital, put his palliative care training in England to good use. He has trained Ca Mau province health officials in palliative care at ward and commune health centres, who also go to patients' homes.
The service reduces the burden of travel costs on patients and lessens the workload and space needs on hospitals.
"Nearly 50 per cent of oncology ward patients [at Ca Mau Hospital] are from rural areas," he said.
Because of an insufficient number of beds, patients with incurable diseases were discharged from the hospital. With the option of palliative care at home, the patients could spend the remaining days of their life with family members, Nghi said.