Ho Chi Minh City's party chief has admitted that the city authorities made a big mistake in delaying the public announcement about the presence of toxic soy sauce in the marketplace.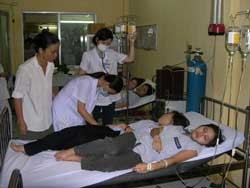 The city's leaders try to halve the incidence of food poisoning
Speaking at a public meeting yesterday, Mr. Le Thanh Hai promised to deal with the government employees in charge of monitoring food safety and hygiene and enforcing food standards.

Also attending the meeting were Tang Cam Vinh, deputy chief of the Chinese Mission Board in Ho Chi Minh City, and Vuong Phan Kim, vice chairwoman of District 5.

In related news, the Ho Chi Minh City People's Committee has just announced a four-year plan for improving food safety.

Its targets include halving the incidence of food poisoning; raising the proportion of untainted food for sale to 100% in the city's supermarkets and 80% in the markets; increasing the awareness of food safety among consumers and market monitors; and allowing additives to be sold in food shops.

As part of the campaign, the Department of Health must publicize those food factories that fail to meet the criteria for a Certificate of Food Safety and Hygiene on its website, www.medinet.hochiminhcity.gov.vn, so that the public can make informed decisions about whether or not to use their products.