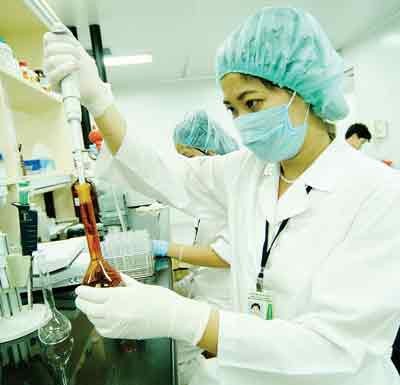 Making vaccines at the Biological Vaccine Company No.1 (Filed photo: SGGP)
The Ho Chi Minh City-based Pasteur Institute announced it has successfully produced a vaccine against A/H1N1 flu based on Vero cell-based technology instead of the conventional fertilized hen-egg vaccine technology.


Following the fact, the Ministry of Health will soon set up a scientific council to test this vaccine.
Meanwhile, the director of the Institute of Vaccines and Biological Substances, Le Van Hiep, says Vietnam has state-of-the-art vaccine production technologies to make nine out of 10 essential vaccines for the national immunization program.
But mass production capabilities are limited, he adds.
The country only makes around 50 million doses of vaccines annually, focusing on key diseases like hepatitis, encephalitis, measles, and poliomyelitis.
Vietnam needs to have at least five million doses of H1N1 vaccine in reserve to protect high-risk groups like children, old people, and health workers, according to the Ministry of Health.

Related article:
Vietnam needs 5 mln doses of swine-flu vaccine: Government