The number of children receiving treatment in local hospitals for diarrhea and respiratory diseases has sharply increased due to seasonal changes in Viet Nam's northern provinces, said Deputy Director of the Central Pediatric Hospital Nguyen Van Loc.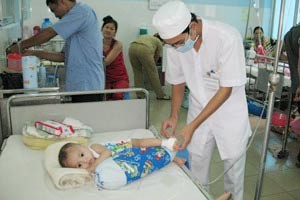 A diarrhea patient receiving treatment in a local hospital
The hospital's Digestion Ward is now receiving some 30 infants a day suffering from diarrhea primarily caused by rotaviruses.

Some 100 children had to be admitted to the hospital's Respiration Ward recently for nasal and bronchial inflammations and asthma. But the ward has only 50 beds.

The same situation has been seen at the Bach Mai and Saint Paul hospitals. Both are now overrun by infant illnesses.

Dr. Loc warned that for respiratory problems, parents should not give their children antibiotics without a doctor's instruction because doing so can cause antibiotic resistance and lead to other complications, including sinusitis and the inflammations of lung and middle ear.

The hospital deputy director also urges parents of children suffering from diarrhea to follow strict sanitation rules and have the children consume appropriate medicines, nutrients, juices and lots of water to make up for the severe losses of water and electrolytes caused by the condition.