Cao Minh Quang, director of the Pharmaceutical Management Department, said Friday that pharmaceutical enterprises in Viet Nam will face closure if they fail to meet international standards on drug production, while a decree on the Drug Law will also tighten drug prices.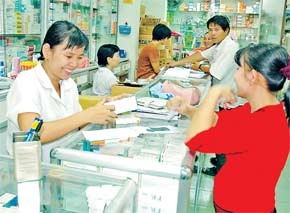 At a pharmacy in Ho Chi Minh City (Photo: SGGP)
He warned that all drug makers must meet ASEAN's Good Manufacturing Practices (GMP) beginning January 1, 2007, and the World Health Organization's (WHO) GMP beginning in 2008.
However, of 174 drug manufacturers in Viet Nam now, only 42 meet the ASEAN GMP and only 18 meet the WHO GMP, figures which Mr. Quang said might prompt his agency to change the deadlines.
In accordance with the new guiding decree on implementing the Drug Law, which the agency announced as going into effect on Friday, Vietnamese drug companies, exporters, importers and traders must also fix their prices as their activities will be monitored by the Drug Authority.
The legal document states that pharmacies must list the retail price of each drug on the packages and are not allowed to sell at a higher price.