Five pharmacies that pledged to support the price stabilization program in Ho Chi Minh City have begun to implement the program policies from today.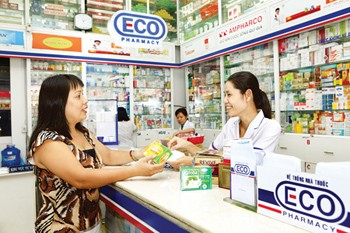 A woman buying medicines from a Pharmacy that supports the price stabilization program, on Nguyen Chi Thanh Street in District 5, HCMC (Photo: SGGP)
According to Associate Professor and Dr. Pham Khanh Phong Lan, deputy director of the Ho Chi Minh City Department of Health, they are the first five of a total 700 pharmacies, that have begun implementation of the program.
The pharmacies are part of hospitals and meet with standard GPP (Good Pharmacy Practices) in districts 7, Nha Be and Can Gio.
Initially, 45 types of essential medicines will sell under the price stabilization program including pain reliever, febrifuge, antibiotics, eye drops and drugs for cough, allergy, stomach pain, diarrhea, heart and diabetes.
Prices of medicines on the program are at least 10 percent less than in the market.
Pharmaceutical companies like Euvipharm, F.T.Pharma, Glomed and Domesco-Dong Thap Medical Export Import Company domestically produce the medicines sold on the price stabilization program.
The program to stabilize the prices of essential medicines in 2011, approved by the Ho Chi Minh City Peoples' Committee in late March, would be from April 1, 2011 until March 31, 2012.