Although the price of pigs is at an all time low, many farmers in Dong Hoa District in the central province of Phu Yen are quickly trying to get rid of all their herd for fear of infection of the Porcine Reproductive and Respiratory Syndrome Virus, also called 'blue ear', which is fast spreading in the area.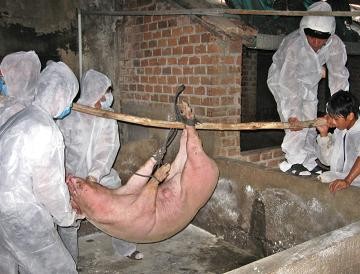 Vets carry pigs to filed for burying them,
Some farmers even sold their pigs at nighttime to avoid suspicion from vets. In addition to selling infected pigs, even the strong and healthy animals were being bartered.
For instance, farmer Nguyen Thi Do of Hiep Trung Hoa Commune in Dong Hoa District had 30 pigs but only one was infected. She sold all the pigs at night for fear of infection to the remaining healthy herd, which then could not be sold.
Not only farmers in Dong Hoa District but others in Phu Hoa and Tuy An Districts also tried to sell off their pigs or have not bred more pigs for fear of the disease. Doan Thi Thanh, a farmer in An My Commune of Tuy An District, said people around his neighborhood sold off all their pigs, and so she followed suit despite a low price of VND28,000 per kilogram.
Meantime private slaughter houses took full advantage of reduced prices and even tried all tactics to further decrease prices of healthy animals.
Until October 22, Phu Yen Province had 538 'blue ear' infected pigs of which vets cured 387 and destroyed 28 pigs, said Nguyen Van Lam, deputy head of the Department of Animal Health.