Due to the serious outbreak of Porcine Reproductive and Respiratory Syndrome Virus (PRRSV) in pigs in the central province of Quang Nam and the threat to other provinces, the head of the Department of Animal Health, Bui Quang Anh, has ordered that all infected pigs be killed and the others in nearby areas vaccinated against PRRSV, also known as 'Blue Ear".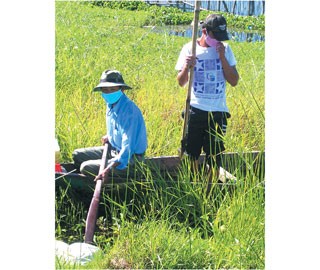 Dead pigs are fished out from rivers in Quang Nam
The government will give farmers VND10,000 per kilo of meat lost as compensation, and will supply 10,000 liters of antiseptic and 750,000 doses of vaccine.
Local vets and farmers will be taught how to protect their pigs against the disease.

Mr. Anh stressed that the disease could be kept under control. The recent serious outbreak occurred in Quang Nam because the local authorities were lax in their duty and veterinaries were warned of the danger too late.

In addition, dead pigs were thrown into rivers and dams, allowing the disease to spread, because people were ignorant of the possible consequences of such an unhealthy practice.

On Tuesday the Viet Nam Institute of Tropical and Contagious Diseases reported it had admitted 20 people with the deadly pig-borne disease since the year began.
So far two have died from the pathogen responsible, a bacterium called Streptococcus suis.