Prime Minister Nguyen Tan Dung has called on ASEAN nations to ensure that all people in the region have access to quality medical services.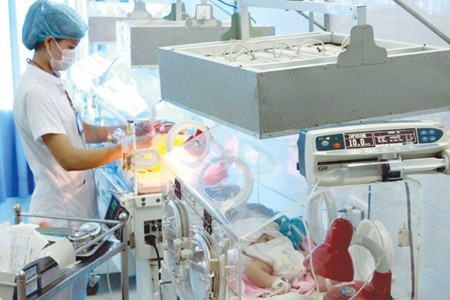 A nurse gives treatment to newborns at Quang Ngai General Hospital with the support of modern medical equipment. — VNA/VNS Photo Duong Ngoc
The PM was speaking at the opening ceremony of the 12th ASEAN Health Ministers' Meeting yesterday.
Dung said that immediate priority should be given to vulnerable and disadvantaged people or those living in remote, mountainous and island areas.
According to the PM, ASEAN countries face many healthcare challenges. He said demand needs were increasing while resources were limited. Climate change and environmental pollution were adding to the problems.
"Co-operation should be aimed at preventing transmitted diseases, especially ebola and Avian influenza from spreading, and keeping dengue, hand-foot-mouth disease and malaria under control," said Dung.
Health ministry statistics show that Viet Nam has made encouraging achievements in health in recent years. This includes the development of a nation-wide grassroots healthcare network.
At the biennial event, health minister Nguyen Thi Kim Tien said that in Viet Nam, there were disparities in access to healthcare services among regions and residential areas, uneven distribution of health resources, limitation in the quality of medical-services, and the risk of new and re-emerging epidemics.
"This is a good chance for ASEAN members to propose their priorities and mechanisms to achieve better health," said Tien.
Hosted for the first time by the Vietnamese Ministry of Health, the event focused on health policies and priorities for tackling global and regional health challenges.
A memorandum of understanding on health co-operation was signed yesterday between ASEAN and the World Health Organisation.