In an urgent dispatch on Wednesday, Viet Nam's Prime Minister Dung asked provincial authorities to tighten their supervision at border gates to prevent the spread of the bird flu epidemic and type A (H5N1) flu.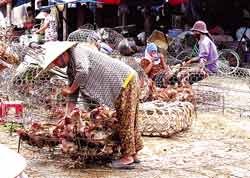 Poultry sale is banned
The dispatch clearly states that the risk of a fresh bird flu outbreak in Viet Nam is very high as the bird flu and type A flu in human has taken place again in some neighboring countries along southwest border and its development is very complex.
Under the dispatch, province and district chairmen must instruct the local anti-smuggling and trade-fraud forces in close coordination with inspection teams to keep a close watch on the nation's borders as well as stop poultry import from epidemic-affected countries.
The dispatch decrees that when fowl smuggling is discovered, the inspection teams must seize and cull on the spot without compensation. Harsh punishment must be imposed to violators.
Furthermore, the message elaborates that chairmen have to guide the agencies to strictly control the hatching of chicks as well as stop cattle from wandering freely.