After a meeting with the People's Committee of Ho Chi Minh City on September 7, Prime Minister Nguyen Tan Dung agreed that building an additional four new hospitals in Hanoi and HCMC, pressure of overloading in City Hospitals would ease.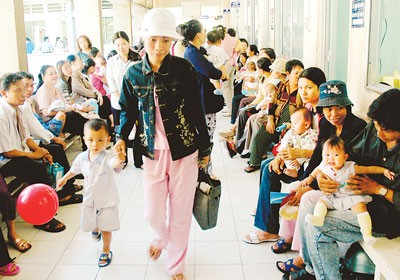 The Children Hospital in HCMC is overloaded. Building additional four new hospitals will ease pressure (Photo: SGGP)
At the meeting, the Ministry of Health petitioned the PM to issue a green light to go ahead with the building of these hospitals.
The four hospitals will be built in Bach Mai and Viet Duc Hospitals in Hanoi and the Children's and Tumor Hospitals in HCMC.
The PM stated that efforts will be named to speed up the construction of the hospitals to make them fully operational as soon as possible.
On suggestions to upgrade other hospitals, delayed due to lack of funding, the PM asked the Ministries of Health, Planning and Investment, and Finance to look into the matter and report to him by October.
For the construction of Viet-Nhat Hospital from Official Development Aid from Japan, the two ministries of Health, and Planning and Investment, have been asked to work with Japanese counterparts to finish all paper work. The formality should be finished as early as December when the two country's PMs will meet in Japan.