Prime Minister Nguyen Tan Dung has urged relevant ministries, agencies, cities and provinces to try their utmost to curb the spread of current cholera.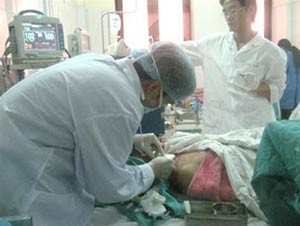 A cholera victim treated in Ha Noi (Photo: Tuoi Tre)
At a meeting Saturday with leaders from the Ministry of Health and affected localities, the Government leader said safety for people had to be placed above all.
"Although we cannot stop business of all street vendors of foods because many of them are poor, we must place the life of people at the highest."
He emphasized the need to take drastic measures to prevent the spread of the epidemic, strictly implement regulations regarding production and trading of safe foods, and conduct regular public awareness campaigns.
The Prime Minister stressed that the spread of cholera will affect not only residents but also socio-economic development, as well as foreign investment.
The health sector must hold the major responsibility for quarantining and stamping out outbreaks as well as treating infected patients, Mr. Dung said.
By Saturday, the third outbreak of cholera that began in early March has hit 18 provinces and cities across the country so far, according to the Ministry of Health. A total of 1,335 patients have suffered from acute diarrhea, and 136 of them are positive with the bacterium Vibrio cholerae.