In a recent meeting with heath sector representatives, Prime Minister Nguyen Tan Dung ordered better mobilization of all resources to reduce overcrowding in major city hospitals next year.
Over the next five years, the health sector must also improve the quality of medical treatment, ensure enough beds for patients, and call for investment in healthcare facilities, Mr. Dung stressed.
The Ho Chi Minh City Department of Health says the problem of overcrowded hospitals is due to an influx of patients from neighboring provinces to major medical clinics in the city.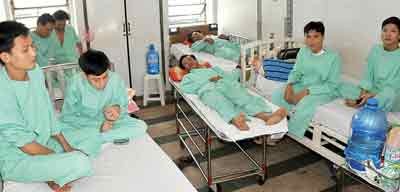 Several patients  forced to share a single bed at the Trauma and Orthopedics hospital in Ho Chi Minh City. Prime Minister Nguyen Tan Dung has directed the healthcare sector to improve its services and reduce overcrowding in 2010 ( Photo: SGGP)
In a bid to ease the pressure on these clinics, the Ministry of Health launched an initiative early this year to rotate thousands of medical staff in rural areas.
The program has yielded good results in improving treatment quality and self-sufficiency in suburban areas and especially in mountainous and remote areas.
Under the program, 21,526 doctors in provinces and districts have been receiving training in hundreds of complex medical procedures. This has reduced the need to transfer patients to larger hospitals by 30 percent.
The HCM City Trauma and Orthopedics Hospital, for instance, provides training for staff at 34 satellite hospitals in the city and other provinces.
In addition, the hospital sends staff to other infirmaries when they are in need and strives to apply new techniques to help patients recover quickly and leave the hospital sooner.
But a consistent shortage of personnel and equipment along with yearly increases in the number of patients, creates continual challenges for the program, said Trauma and Orthopedics Hospital Director Tran Thanh My.
Furthermore, skilled doctors often avoid rotations since they have their own private practices to attend to and long absences have a negative effect on their local patients, said Dr. Lam Hoai Phuong, director of the Maxillo Facial Hospital in Ho Chi Minh City.
Dr. Pham Xuan Dung, deputy director of the Tumor Hospital in the city's Binh Thanh District, said his hospital had implemented several other measures to improve patient service that had shown positive results.
The facility began seeing patients as early as 6am; installed a formalized number-taking system; performed surgery on weekends; implemented new diagnostic and treatment technology; and offered services outside of regular working hours. The efforts paid off and the hospital was able to treat more than 38,000 patients in 2009, said Dr. Dung.
The hospital also provides training to healthcare staff in the southern provinces of Dong Nai, Tien Giang, Can Tho and Kien Giang. However, Dr. Dung said many patients in rural areas still consider hospitals in major cities to be superior.
Experts say the country's healthcare conundrum therefore requires a more comprehensive approach to improving quality and reducing crowding.
Related article:
Hospital overcrowding jeopardizes lives
Medical Staff Take Turns to Serve in Commune Hospitals: Health Minister