Prime Minister Nguyen Tan Dung in a dispatch October 26 asked authorities to take action in curbing the latest nationwide outbreak of dengue fever.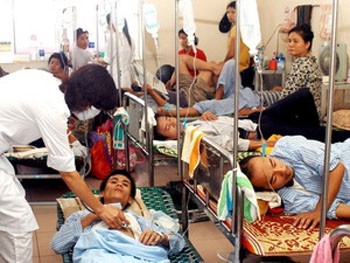 Thanh Nhan Hospital in Hanoi is overloaded due to a rocketing number of dengue fever patients (Photo: VNA)
He ordered chairmen of provincial People's Committees to investigate and monitor local epidemic prevention measures.
All resources should be mobilized to cooperate with the health sector in carrying out environmental hygiene campaigns aimed at killing the mosquitoes and larva responsible for causing the disease, PM Dung said.
He instructed the Ministry of Health to closely monitor the latest epidemic to prevent it from spreading and minimize deaths.
In addition, the ministry should prepare medicines, equipment and sick beds to treat patients, and establish a travelling emergency aid team to assist local health units in treating those with dengue.
Ministry of Education and Training departments should call on students to participate in wiping out mosquitoes and larva around their homes and communities, the PM added.
According to the Ministry of Health, since the beginning of the year, Vietnam has recorded 72,155 dengue cases, an increase of 7.1 percent over the same period last year, including 58 deaths.
Related article:
Dengue fever sees nationwide resurgence