The government has blamed grass roots level authorities for the recent outbreak of bird flu in many places and instructed them to do everything necessary to check the disease.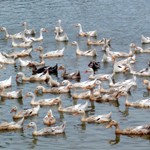 Lax behavior will cause bird flu outbreaks
In a dispatch Thursday, Prime Minister Nguyen Tan Dung said the recent outbreaks in 13 provinces were caused by local authorities and farmers letting their guard down and being lax about vaccinations and disposal of dead waterfowl.
Four people had died from the deadly disease and district and town people's committees had to adopt proactive measures against H5N1 and human flu type A, and monitor the situation.
The Ministry of Agriculture and Rural Development (MARD), Ministry of Health (MoH), Steering Board for Bird Flu Prevention and Control, and people's committees in districts had to concentrate on preventing the recurrence and spread of the disease.
Authorities in bird flu-stricken provinces must be more determined to stop the disease, mobilizing all available personnel to perform sterilization and vaccination and control poultry slaughter, sales, and transportation.
Health departments, veterinary agencies, and border guards and patrols had to deal harshly with people smuggling chicken into the country, while officials in charge of dealing with the disease would be penalized for failing to spot sick animals.
MARD and the MoH must work closely to prevent human infections. Since the MoH was responsible for human victims, it had to ensure adequate supply of drugs and equipment to medical centers nationwide so that they could swiftly respond to emergencies.
Meanwhile, the Department of Health yesterday confirmed fresh outbreaks in the Soc Trang Province. A flock of unvaccinated 55-day-old ducks tested positive for the deadly H5N1 strain of bird flu virus.
A farm in Nga Nam District in the Mekong delta province lost 900 out of its 1,300 ducks while the rest had to be culled and the area disinfected.
Nine areas - Ha Noi and the provinces of Quang Ninh, Ninh Binh, Phu Tho, Ha Nam, and Tuyen Quang in the north, the central province of Quang Tri, and Vinh Long and Soc Trang in the Mekong Delta provinces – recently reported outbreaks.