Prime Minister Nguyen Tan Dung has asked the government machinery to fully mobilize and take drastic action to stamp out the acute diarrhea epidemic sweeping the north.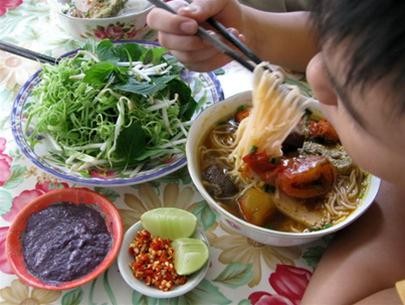 Uncooked food can be danger as acute diarrhea is sweeping the north. (Photo:TTO)
In an urgent dispatch Thursday, he said authorities and the media should educate the public about the need to ensure sanitation, especially personal and food hygiene and safety.
Mr Dung called on all agencies concerned to participate in the efforts to combat the outbreak.
He instructed the Ministry of Health to carry out effective measures to prevent, detect early, and act swiftly in the worst-hit provinces, and supply enough drugs to medical units and clinics to treat patients.
He told municipal and provincial people's committees – that have overall responsibility for disease control - to step up oversight of food preparation, especially at roadside eateries, and ensure disinfection of drinking water, and to throw the book at any eatery whose hygiene was not up to scratch.
He advised farmers not to fertilize their fields with fresh night soil.
On the same day, the National Institute for Tropical Diseases admitted seven more diarrhea patients, bringing the number so far affected to 161. Of them, 103 have tested positive for the virulent vibrio cholera virus.
Ha Noi is the worst hit, followed by the provinces of Bac Ninh, Ha Tay, Nam Dinh, and Thanh Hoa. Most of the victims are reportedly not vaccinated against the cholera virus.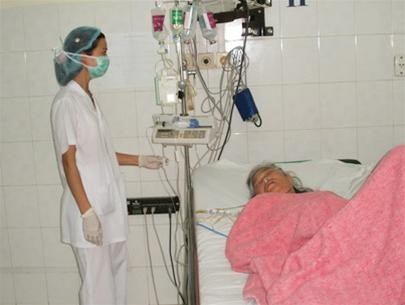 Acute diarrhea victim is being treated at a hospital in Ha Noi (Photo:TTO)
More worryingly, 10-15 per cent of the patients are in critical condition, with a very weak pulse and alarmingly low blood pressure. Some have even suffered kidney failure due to dehydration.
To check the sanitation and hygiene of foodstuffs sold at markets and roadside restaurants in Ha Noi, an inspection team made up of officials from the ministries of Health, Agriculture and Rural Development, and Industry and Trade went around on Thursday and Friday.
In Ho Chi Minh City, no hospital has so far reported admitting any acute diarrhea patients. The inflow of child patients at Children Hospital 2 remained at the normal 30-40 per day, Dr. Pham Thi Ngoc Tuyet, head of the Department of Gastro-Enterology, said. But none has tested positive for cholera, she added.
Dr. Phan Cong Hung of the city's Pasteur Institute said his institute was keeping a constant lookout for outbreaks, adding there had been none yet.