Police officers and vets in the southern province of Binh Duong have discovered a pig farm in Ben Cat Town which injected water and tranquilizer into hundred animals to make them heavier before sending them to slaughterhouse.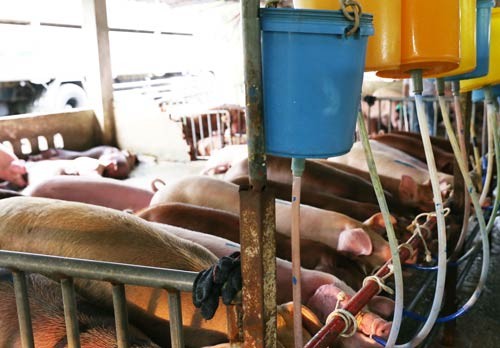 Pigs are lying after they are injected drugs (Photo: SGGP)
Police officers from the Department of Criminal Investigation in Economic Management and Positions; from and the Economy Station who coordinated with vets from the Department of Animal Health in Binh Duong caught workers of a pig farm at red-handed fill up the animals with water to increase their weight and injected drug into hundreds of pigs.
The farm is owned by 33 year old Tran Quoc Thai, native of the Mekong delta province of Ben Tre.

Police officers discovered 6 workers of the farm pushing the pipes into the pigs' mouth and injected tranquilizer into 10 pigs. In another farm, over 200 pigs were lying because they had been pumped water and injected drug.

Tran Quoc Thai admitted the farm was operated in September 2014. Everyday, he purchased around 300 pigs from Ben Tre Province and then pumped water and injected drugs before sending to slaughterhouses in No Trang Long Street in Ho Chi Minh City's Binh Thanh District.

At his farm, police officers seized 44 empty tranquiller drug bottles Prozil fort and 4 full bottles; one syringe and 32 plastic buckets with pipes.

Consumers who eat pork which contain tranquilizer within one week or longer will possibly have cancer, decreased red blood cell and rotten bone.