The number of students suffering from short-sightedness is increasing in Viet Nam's big cities, experts said.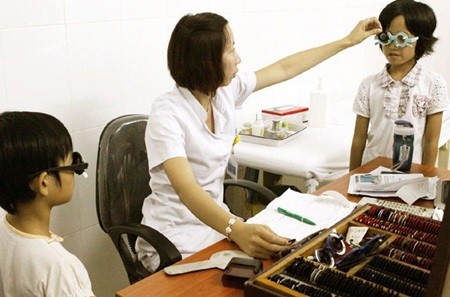 Short-sighted children get medical treatment at the Central Eye Hospital in Ha Noi. Experts said that the number of students suffering from short-sightedness was increasing in Viet Nam's big cities. — VNA/VNS Photo Duong Ngoc
Vo Thi Chinh Nga, from HCM City Eye Hospital, said during holidays, children from the city and neighbouring provinces flocked to the hospital for examinations and buying glasses.
Through examinations for children in some southern provinces, doctors found that the percentage of children had to wear glasses in suburban and rural areas was lower than those living in urban areas, she said.
For example, only two or three students out of 200 students suffered from eye refractive defect while 60 per cent of those from classes for gifted students wore glasses, she said.
A study in 2008 showed that schools for gifted students like Le Hong Phong, Tran Dai Nghia had a high rate of short-sighted students, Nga said.
Nga said the main cause was children having little time for outdoor activities.
The problem was that parents put heavy emphasis on education and they didn't encourage children to play, she said.
"Long hours of learning may lead to eye strain which in turn causes an increase in eye-related diseases," Nga said.
A study from the HCM Eye Hospital found that children living in urban areas faced a high risk of eye refractive defect because they spent most of their time indoors, a long educational day with after-school tutoring and an increase in the use of computers, television and smart phones.
Nguyen Thi Thu Hien from Central Eye Hospital shared the same opinion.
There were some factors which led to short-sightedness, she said, among them, genetic factors.
But reading, studying or staring at your phone were also believed to cause the defect.
Hien said exposure to sunlight could be useful for students as sunlight triggers the release of a substance which helped protect their eyes.
The rate of myopia in urban areas had soared in recent year, accounting for a third of visitors to the Central Eye Hospital, she said.
Nguyen Minh Thu, a mother of a seventh-grade student, said her daughter had to wear glasses five years ago.
The level of students affected with myopia increased with the level of study, she said, adding that besides studying at school, her daughter attended four extra lessons a week.
Nguyen Quang Thanh, an owner of a shop on Tran Phu Street, said he recognised a growing tendency of young students wearing glasses.
His shop made a record profit by selling glasses for students, he said.
Myopia generally develops during childhood and adolescence, causing blurred vision that has to be corrected by glasses, contact lenses or laser eye surgery, according to ophthalmologists.
If those with eye refractive defects don't discover it in a timely manner, it will affect their eyesight and cause inconvenience for daily life.
Short-sightedness occurs not only in Viet Nam but also is prevalent in Asia.
To protect your children's eyesight, Hien said, parents should let children play outdoor activities as much as possible.
She advised children to limit activities like reading, use of computers, tablets and mobile phones and educational practices which are affecting myopia development.
Nga said children's eyesight could be recovered by timely examinations.
"It is necessary that more attention should be paid by schools and parents to reduce the risk of myopia among students," she said