The Ministry of Agriculture  and Rural Development on July 25 held a meeting in Hanoi to discuss tightening of management in slaughterhouses in North Vietnam to ensure better food safety and hygiene.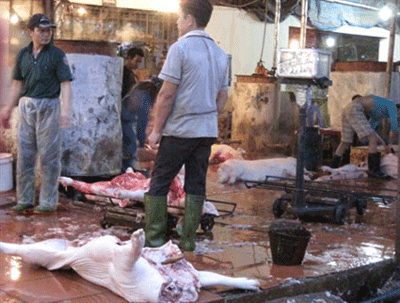 The dirty and unhygienic floor of an illegal slaughterhouse in Hanoi
Pham Van Dong, deputy head of the Department of Animal Health, said the country has 28,285 small slaughter houses.
In 12 provinces in the North alone, there  are  11,485 slaughter houses but out of these the relevant agencies can only monitor 929 because of lack of human resources.
The ministry said that related agencies in the North are not well prepared to manage and monitor slaughter houses and the transportation of poultry and cattle, as compared to their counterparts in the South.
Many slaughter houses in Hanoi have expensive and state-of-the-art slaughtering lines that are lying unused, which is a waste of tens of billions of dong, while consumers are left to buy unsafe and unhygienically chopped meat.
Furthermore, three industrial slaughter lines with capacity to process 400 to 1,000 pigs per day work perfunctorily, delivering only 30 pigs a day.
Deputy Minister Nguyen Thi Xuan Thu has asked relevant agencies in the North to think about proactive measures for improving management in slaughter houses in the future.
Of late there were reports of further bird flu outbreaks in the northern province of Hai  Phong after it had hit the central province of Quang Binh and the northern province of Hai Duong.
Around 2,700 ducks from a flock of 17,000, owned by farmers Ho Van Hung and Ngo Thanh Hoa in An Thai Commune of An Lao District in the northern province of Hai Phong, suddenly died five days ago without any clear cause.
Earlier also, a flock of ducks of farmer Dao van Vu in the neighborhood showed symptoms of bird flu and the vets subsequently slaughtered all poultry on the farm and carried out sterilization procedures.
Accordingly, the Hai Phong Department of Animal Health had taken samples for testing and results showed that the ducks had positive H5N1 strain in them. This resulted in 20,000 ducks being killed later.