People from lower income groups will face the brunt when provinces and cities in Vietnam hike fees on many health services according to new guidelines set by the ministries of Finance and Health.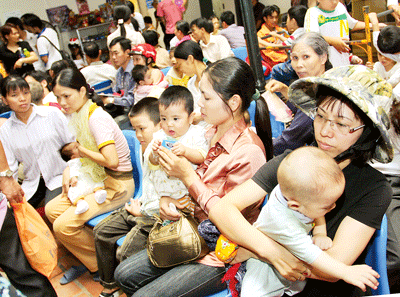 Parents wait their turn to see doctors at the Central Children Hospital in Hanoi (Photo: SGGP)
Many cities and provinces are trying to raise revenue by hiking health service fees from August 1. Until now, only the northern province of Bac Ninh is the first locality in the country to adopt new rates equal to 84 percent of the maximum allowed by a joint fee table the ministries of Health and Finance issued in February.
Fifty other provinces are awaiting the go-ahead from their local People's Council to raise the fees from August 1.
Interestingly, some provinces including the northern provinces of Lao Cai, Son La, Cao Bang and the central province of Quang Tri have even proposed a hike in fees by 70-75 percent.
Nguyen Minh Thao, deputy head of the Vietnam Social Insurance, said it is quite an absurdity and very hard to accept that because these are cash-strapped cities and provinces. 
Moreover, only central hospitals such as Bach Mai, 108, Cho Ray and Central in the central province of Thua Thien-Hue can adopt a maximum rate, Thao said.
Thao stressed that some wealthy provinces such as Hanoi, Hai Phong, Quang Ninh in North Vietnam have proposed to raise fees by 70 percent. There is no room for disadvantaged provinces with poor facilities and shortage of personnel to charge such high fees.
Public health insurance agencies say they'll face deficits in billions of dong if hospital fees increase next month, especially for common services like sickbeds and ultrasounds.
The Vietnam Social Insurance has asked all local authorities to reduce their new fees as it will greatly affect more than 40 percent of the poor people who have no health insurance. Even insurance holders will be affected by the new rate as they will pay an increase from five to 20 percent on hospital fees.
In addition, if district hospitals also hike hospital fees, more people will flock to central hospitals that are well equipped with highly skilled doctors; and efforts to reduce overload in hospitals in big cities will prove futile.
The Vietnam Social Insurance therefore has asked its sub-divisions in provinces to report irrational hike in rates to the People's Committees as well as the effect on residents of the new fee rates.
People's Councils in Mekong Delta provinces have approved the new hike in health service fees. Most of them agreed to raise the hospital fee. Can Tho City will increase fees on 413 health services with a maximum 70 percent, by August 1. Hau Giang Province will hike by 62 percent, Soc Trang by 75 percent, while Kien Giang and Long An by 70 percent. Ben Tre and Vinh Long Province will raise by 80 percent.