Soon after the untimely death of Huynh Thi Tung and her unborn baby on June 9, Pham Minh Duc, director of the General Hospital in Mo Duc District in the central province of Quang Ngai issued temporary suspension orders for two of the nurses responsible in this case.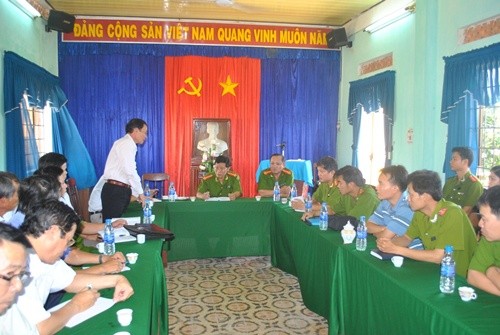 Relatives of Tung,  hospital staff and the police hold a meeting to discuss the cause  of Tung's death
Pham Minh Duc decided to suspend nurses Nguyen Thi Tuyet Nga and Duong Thi Ly for one week, following complaints from Tung's relatives who blamed the two nurses for negligence in looking after the mother and her unborn baby, both of who died on June 9.
Duc said that after looking into the case he believes that the 34-year-old Tung from Duc Hoa Commune in Mo Duc District is believed to have suffered from Amniotic Fluid Embolism (AFE), a difficult obstetric complication.
However, the final result is still awaited from forensic tests and based on that, doctors and nurses responsible in this case will be penalised. On June 11, staff from the Ministry of Public Security had taken samples for forensic examination.
Huynh Thị Chinh, Tung's younger sister who had accompanied Tung to hospital, recalled that Tung was in full labor when she was taken to the hospital at 8pm on the night of June 8.
After doctors examined her, they said her condition was normal and that she was as yet not ready to deliver. However, Tung was clearly in deep labor pain. Chinh called doctors and nurses and asked for a surgery which was refused, and instead she was told to wait.
Chinh was in tears when she saw her sister in so much pain, and ran to look for the nurses again at 11pm but was told by Nga that it was too late and she should let the nurses take their rest.
Even after repeated attempts by Chinh to get the nurses to examine her pregnant sister, nurse Nga only arrived 45 minutes later.
By that time, Tung developed breathing problems and nurse Nga injected her with a drug. At 1am Tung died and 10 minutes later doctor Nguyen Trung Dung appeared to give her emergency aid, but then it was too late.