Swine flu has claimed the lives of  ten pregnant women in the three months since it first broke out in Vietnam, the Ministry of Health said.
Fearing they will contract the disease, pregnant women are flocking to doctors for advice.
Tu Du Obstetrics in Ho Chi Minh City's District 1 is among those experiencing an influx.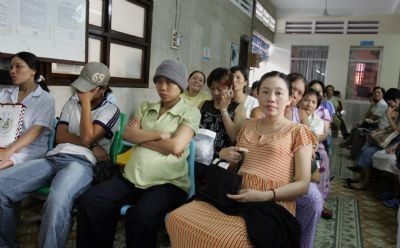 The obstetrics ward at HCMC's Tu Du hospital. With 10 pregnant women falling prey to swine flu so far, people are rushing to consult doctors
Some of the women said they were worried as they presented symptoms of the flu. 
Hoang Ngoc Lan from the southern province of Binh Duong said she sometimes has a slight fever and cough but does not know if it is because of her pregnancy or weather changes.
A branch of the Medical University specializing in obstetrics in Phu Nhuan District has also received an increasing number of pregnant women.
A woman, 31 weeks into her term and wishing to remain unnamed, said though doctors had told her to come for an examination in the middle of November, she came earlier since she had a slight fever and felt tired.
Chief of the center, Nguyen Thi Thanh Ha, said she did merely provided information about the flu and advice on getting tested at the city's Tropical Diseases Hospital.
Deputy head of the Tropical Diseases Hospital, Tran Tinh Hien, said the hospital is treating 10 pregnant women with the flu who have complications from severe pneumonia. Most of them are from nearby provinces and came to the hospital in bad shape.
The Department for Preventive Medicine and Environment confirmed November 3 one more death due to the A/H1N1 virus, taking the country's death toll to 37.
The victim was a 38-year-old man from Hanoi. He suffered kidney failure and died despite a month's intensive treatment at the National Institute of Infectious and Tropical Diseases. Tests revealed he had the flu.
The country has so far reported 10,605 cases of whom 10,344 have been treated and discharged from hospitals.