119 medical individuals and groups who greatly contributed to preventive medicine field yesterday received the Dang Van Ngu award from the Ministry of Health at a meeting to celebrate 60th anniversary of the Vietnam's Preventive Medicine.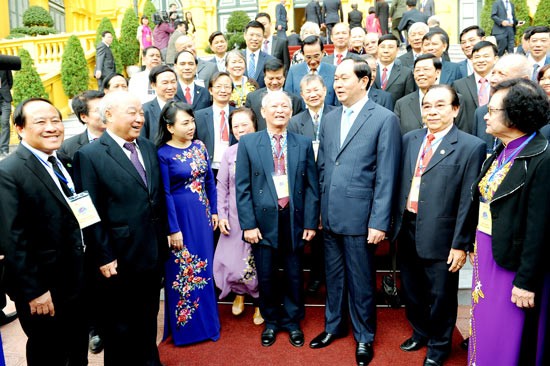 President Quang and good medical workers (Photo: SGGP)
Speaking at the ceremony, Deputy Prime Minister Vu Duc Dam lauded the preventive medicine sector's achievement. as well as expressed his gratitude to Professor Dang Van Ngu who had devoted all his life to scientific researches for malaria prevention and these medical workers who were not apprehensive of hardships and difficulties to work for the sector.
Mr. Dam said that since 2008, the National Assembly has decided to spend 30 percent of the nation's budget for preventive medicine yet the localities just spent 25 percent. The prevention is more important than cure. The rate of non-communicative diseases is 70 percent yet the preventive medicine sector just allocated 12 percent expenditure for preventing these diseases; accordingly, it is right time to resolve the problem, said Mr. Dam at the meeting.
On behalf of the government and the Party, deputy PM Dam granted the second independence medal to the Bureau of Preventive Medicine.
On the occasion of 60th anniversary of preventive medicine sector, State President Tran Dai Quang yesterday met 11 individuals and groups that were awarded the Dang Van Ngu Award.
Speaking at the meeting, President Quang praised medical workers in preventive medicine who perform well their duties.
Furthermore, the President urged to strengthen scientific researches- techniques and technologiesto detect factor to cause disease as well as vaccine production to ensure people's health. Additionally, the preventive medicine sector should pay attention to health of mothers, children, the elderly people and improve food hygiene.
President Quang added, there should be a cooperation between the medical sector and the army in preventive medicine especially in remote islands, distant regions, border crossing. The sector should expand more international cooperation with the World Health organization and other medical organizations globally as well as increase changing information and experience in fighting against new dangerous infectious diseases for a safe world.