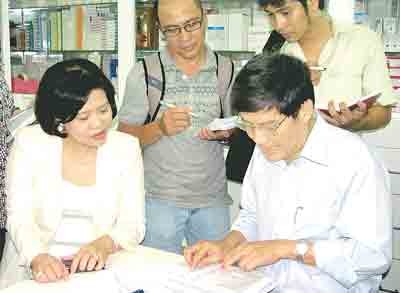 Dua and Hong check the status of the price subsidized program in Eco pharmacy (Photo: SGGP)
A surprise inspection of the price subsidized program on essential medicines was carried out in Cho Ray Hospital Pharmacy, Tu Du Hospital Pharmacy and Eco Pharmacy yesterday evening by Nguyen Van Dua, Deputy Secretary of the HCMC Party Committee and Nguyen Thi Hong, Deputy Chairwoman of HCMC People's Committee.
Tran Quyet Tien, deputy director of Cho Ray Hospital, revealed that after the implementation of price subsidies by the HCMC People's Committee on essential medicines, every doctor in the hospital has been instructed to prescribe medicines from the given list only, whenever possible.
A medical secretary assists doctors in the clinic and at the end of each day the staff checks the prescribed medication as per the list, to monitor the correct implementation of the program.
Tran Dang Trinh, assistant manager at the pharmacy, stated that since Cho Ray is a type 4 hospital, which normally accepts seriously ill patients, doctors often have to use specific medication. Therefore the hospital mostly uses only 10 out of the 45 medicines listed on the price subsidized program.
Tu Du Hospital pharmacy is currently endeavoring to introduce more price subsidized medicines for patients.
At present all 45 medicines listed under the program are for sale here, along with a reserved counter for consultation on these drugs.
After completing the inspections, Nguyen Van Dua expressed appreciation of efforts made by different departments and businesses in implementing the price subsidizes program on essential medicines.
He also appreciated the fact that some hospitals were determined to lower costs incurred by patients.
The program has been well received by both health-care workers as well as patients and is part of the movement "Be Vietnamese- buy Vietnamese", launched by the Politburo Committee.
Dua understood that as the program was still quite new; more time will be required to change the prescribing habits of medication.
He however hoped for more cooperation between the People's Committee, concerned departments and every pharmacy and hospital, especially maternity and children hospitals.
This would help in better understanding of the market so that more essential medicines can be added on the price subsidized list. So far all the 45 medicines on the price subsidized program list have been distributed to 525 outlets in the City, including 99 hospital pharmacies.