The Prime Minister has issued a decree on the organisation and operation of human tissue banks and the National Control Centre for Body Part Transplant.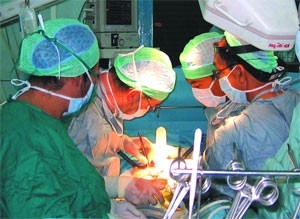 A case of liver transplant conducted at the Children's Hospital 2 in Ho Chi Minh City
The Prime Minister's Decree No. 56/2008/ND-CP on the matter, dated April 29, has three chapters and 21 articles.
The first chapter of the decree states that tissue banks have the legal status, functions and tasks stipulated by the Law on Human Organ and Tissue Donation, Body Part Transplant and Body Donation.
It outlines the five kinds of legal tissue banks, those run by the Health Ministry; those run directly by hospitals, institutes, medical and pharmaceutical universities under the Health Ministry or ministries or ministerial-level agencies; those run by provincial or city health care departments; those run by hospitals under health care departments and private tissue banks, including those run by private hospitals, medical and pharmaceutical universities.
Tissue banks can receive human tissue from legal medical establishments and individuals as well as from international cooperation and aid programmes.
Medical establishments are permitted to receive tissue from bodies of dead and living persons as donations in accordance with the law and professional agencies' regulations.
These establishments must ensure the medical records of donor and recipient have been examined before distributing the donated tissue.