People's Hospital 115 is one of several Ho Chi Minh City hospitals that are allowed to use private capital to modernize their equipment and train staff, and the benefits are obvious.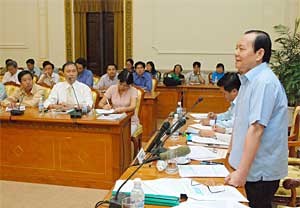 HCMC Party Chief Le Thanh Hai at the review meeting
After ten years of this enlightened and realistic approach, the hospital in District 10 has created nine more departments and had enough funds to buy loads of modern machines, saving its patients much time and money.
At a review meeting hosted by the HCMC People's Committee yesterday, the hospital's director, Dr. Nguyen Quoc Khanh, said that the change in policy had let the government keep the national health bill within reason and allowed People's Hospital 115 to develop at the same time.
Another to benefit from the different approach is Tu Du Women's Hospital, which used VND113 billion (US$7million) from several sources to go hi-tech and upgrade the treatment of its umpteen thousands of female patients.
Thank to Tu Du's success with in-vitro fertilization, Viet Nam has joined the ranks of Asian countries where the technique is commonplace.
It's not just a few public hospitals that are benefiting. Several private clinics have sprung up in recent years, giving Vietnamese people a choice and easing the massive load on the public health care system.
At the meeting yesterday, HCMC party chief Le Thanh Hai emphasized that the policy benefited the hospitals, allowed poor people to get better treatment, and improved the level of professionalism amongst medical staff, especially through training.