Despite the Ministry of Health (MOH)'s ban on doctor's revealing the gender of fetuses to expectant parents, most doctors in private clinics in big cities are more than glad tell parents anyway, as a way to draw more customers to their clinic.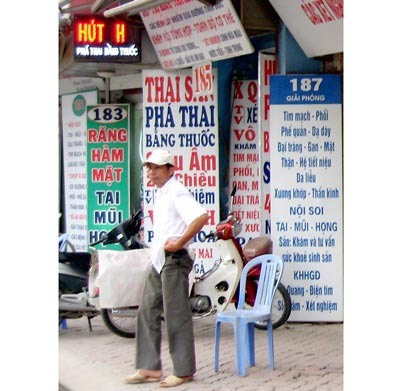 Obstetric private clinics mushroom in streets in Hanoi. Due to pressures of competition, doctors of such hospital are often glad to reveal the gender of fetuses, despite the law forbidding the practice ( Photo: SGGP)
Private obstetrics clinics that provide ultrasound scan services capable of revealing the sex of unborn babies have mushroomed in Hanoi. Private clinics on Thai Thinh, Van Bao, De La Thanh and Giai Phong streets in Hanoi have seen influx of pregnant women waiting their turn to undergo an ultrasound scan.
However, the reliability of ultrasound results greatly depends on the technician's experience and skill.
An anonymous doctor of a private hospital admitted most of expectant mothers would not undergo an ultrasound test purely to check on the baby's position, general development or to see if congenital malformations are taking place, but to learn the gender of the baby.
If doctors refused to reveal the gender of fetuses, the clinic would not attract as nearly as many clients.
MOH banned doctors from revealing to prospective parents the gender of their unborn baby or else face having their licensees revoked.
The move is designed to redress the imbalance in the ratio of boys to girls in the country. Nguyen Ba Thuy, vice-minister and general director of the General Office for Population and Family Planning, expressed his concern that gender imbalance in Vietnam has reached an alarming level, blaming baby predictions that take place at private hospitals.
The gender ratio among newborns in Vietnam has risen to 112 boys for every 100 girls. In some localities in the Red River delta this rate has increased to 115 boys for every 100 girls.
Thus, doctors in private clinics must use different ways to tell expectant parents about the gender of the baby to avoid violating the ban.
A doctor said some couples, after learning their unborn fetus is a female, decide to abort it. For instance, a couple in the mountainous northern province of Son La, who already have two daughters, rushed to Hanoi for an ultrasound scan test to learn the gender of their unborn baby. They decided to remove the baby after being told the baby is a girl, despite being advised against doing so because the fetus was large. Unluckily for them, after aborting the baby, they were told it had been male.