Vietnam reports more than 10,000 traffic accident cases a year, with many of the accident victims either seriously injured or dying due to lack of timely first aid reaching them or incorrect unsolicited advice of ignorant people.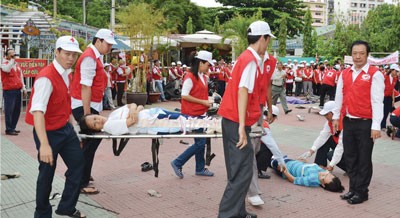 Young people being trained in first aid (Photo: SGGP)
Accordingly, the Ministry of Health has launched a project for the rescue of traffic accident victims in the hope of reducing the toll of dead and injured victims.
The emergency ward in Viet-Duc Hospital in Hanoi in so crowded these days as it approaches Tet holiday season that doctors and nurses are run off their feet.
The hospital admits hundreds of patients' everyday from the emergency ward, with 90 percent of them being traffic accident victims.
Lying on a stretcher, Long from the northern province of Hoa Binh had a traffic accident in the morning and was transferred to the hospital after suffering from shock and unconsciousness. Doctors said his wounds were serious because he did not receive timely first aid.
Another elderly woman who was hit by a motorcycle on Phap Van-Cau Gie Highway broke her thigh bone and some people applied wrong pressure while moving her to the hospital, with the result that her injury worsened.
Dr. Nguyen Tien Quyet, the hospital director, said more and more cases are being transferred from district hospitals and some victims' condition worsens from lack of timely first aid.
In reality, most big hospitals in Hanoi and Ho Chi Minh City admit a large number of traffic accident patients who are on the danger list as very few hospitals located along expressways and highways have medical staff with knowledge of first aid.
Only 65 percent traffic accident victims receive first aid on the spot and 50 percent are unknowing victims of wrongly applied first aid, mainly given by nearby residents or passer-bys that have little medical knowledge.
Because of this alarming situation, the Ministry of Health will run a project on how to apply first aid to traffic accident victims on expressways and highways. Under the project, five first aid clinics will be built, two along Hanoi-Lao Cai highway; two along Hanoi-Thai Nguyen highway and one along Ho Chi Minh-Long Thanh-Dau Giay Highway.
These medical first aid clinics will work in coordination with hospitals across the country. Each first aid post will be equipped with an ambulance, emergency devices and essential drugs. Staff in these posts will be able to reach accident victims within 15 minutes of a call and transferred to the closest hospital safely.
The project plans for 31 first aid posts along expressways in the country by 2020. In addition to such posts, the ministry plans to construct three managing centers in three regions in the North, the Central and the South. 
Anyone who wants to have a driving license must learn how to provide first aid to traffic accident victims and provide police and wardens with devices and medicines for emergency.
According to experts in the medical field and traffic, if collaborators are trained to provide the correct first aid and posts are built along expressways and highways, around 10 percent of the toll of traffic accidents will decrease every year in Vietnam.