Diep Kinh Tan, deputy minister of Agriculture and Rural Development, at a meeting with the National Steering Committee against bird flu on August 21, has asked all local steering committees to follow guidelines set by the Prime Minister and the Ministry, to curb spread of bird flu.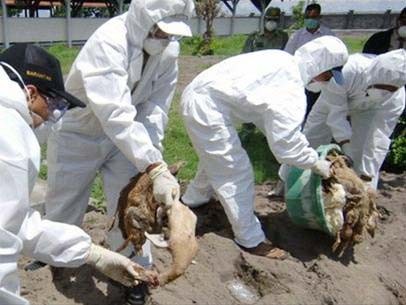 Vets bury dead poultry
Reports also show that the blue-ear disease has become more complicated in the central highland province of Dak Lak, with 14 out of 15 districts of the province being affected.
Statistics from the Department of Animal Health reveal that at the moment, only five provinces across the country are affected by bird flu, namely the northern provinces of Ninh Binh, Nam Dinh, Hai Phong and the central provinces of Quang Binh and Ha Tinh.
The Ministry of Agriculture and Rural Development has already provided 70,000 doses of vaccines against the blue-ear disease.
Up till now, the total number of dead animals killed by the disease has reached 140,000.
Dak Lak Province and the central province of Nghe An and northern province of Cao Bang have reported some more cases in the last 21 days.