A woman from the Mekong Delta province of Dong Thap gave birth to four baby girls in Tu Du Hospital in Ho Chi Minh City on June 20, in her 32nd week of pregnancy.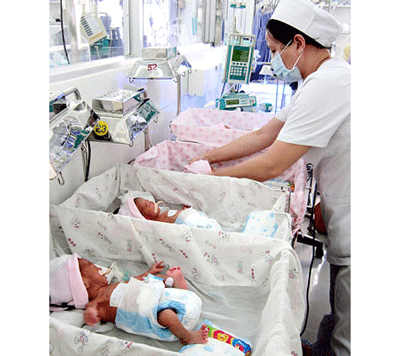 The newborn quadruplets being treated at the neonatal department in Tu Du Hospital (Photo: SGGP)
Tran Thi Tinh, 31, hailing from Lai Vung District in the Mekong Delta province of Dong Thap was moved from the General Hospital in Dong Thap to Tu Du Hospital on June 20, when she was 32 weeks pregnant and showed signs of premature labor.
Doctors at Tu Du Hospital decided to conduct immediate surgery to save her four children. The new born babies weighed from 1.2kg to 1.7kg. On earlier births Tinh had had normal deliveries. 
Dr. Tran Ngoc Hai said the quadruplets are being taken care of very well and being treated with bili lights, a type of light therapy to prevent jaundice.
The newborns are breathing normally and drank milk from bottles after six days in intensive care.
Though Tinh will be discharged from the hospital today, her babies will have to stay in the hospital for further care. Tinh already has a 12-year-old son and a 6-year-old daughter.
According to Dr. Hai, the ratio of quadruplets is rare, about 1:700,000 in six years and Tu Du Hospital has just had one case of quadruplet birth.
In related news, deputy director of the General Hospital in the central province of Quang Ngai said at a meeting with the provincial Fatherland Front that medical workers did not apply correct procedures in the cases which resulted in the deaths of two mothers and their babies in May and June this year.
On June 26, the provincial Fatherland Front convened a meeting with health and hospital leaders to examine the deaths of two pregnant women and their babies within a period of just two months.
This caused a lot of distrust and outrage in people who shunned the hospital blaming callousness on the part of the medics there. 
Dr. Huynh Ngoc Thanh, head of the hospital's maternity ward, said doctors are living under stress; four of them have been hospitalized and others have asked for transfers.
Nguyen Xuan Men, director of the hospital, said that leaders will work with medical workers of the maternity ward to change their behavior pattern and work towards regaining the trust of people.