No more cases of Porcine Reproductive and Respiratory Syndrome (blue ear disease that affects pigs) have been detected in the central province of Quang Nam over the past 21 days. This means that this is the first province to announce an end to the disease.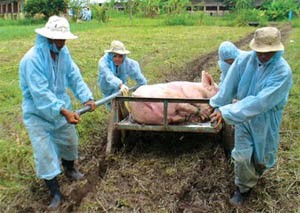 Sick pigs are culled to prevent the blue ear disease from spreading further

However, the blue ear disease still persists in nine provinces throughout Viet Nam, which comprise the northern provinces of Thai Nguyen, Thanh Hoa, Thai Binh, Nam Dinh, Ninh Binh; the northern, central province of Ha Tinh, the central provinces of Nghe An, Thua Thien – Hue and Lam Dong.

On Friday, another commune in Nghe An reported the appearance of blue ear on 24 pigs which were destroyed soon afterwards. The disease has also spread to another commune in the northern province of Nam Dinh to push up the total number of affected animals to 144 pigs, 134 of which have been culled.

In addition to this, bird flu continues to ravage Chau Thanh District in the southern province of Tra Vinh where 350 chickens of a flock of 720 birds were killed by the disease. Half of a flock of 1,000 birds in Tieu Cau District also died as a result of bird flu.

The hazardous bird flu has made a reappearance in the northern province of Son La and four Mekong Delta provinces including Vinh Long, Tra Vinh, Can Tho City and Long An where it is threatening to spread even more in future.