A doctor at the Ho Chi Minh City-based Medical University Hospital said health problems affecting hundreds of gold miners in the central province of Quang Nam are linked to their inhalation of silica dust.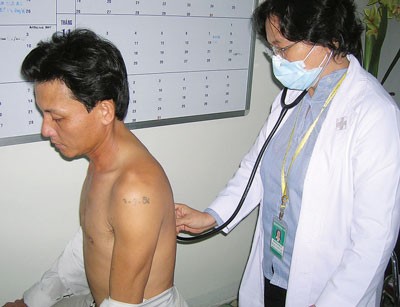 Dr. Tuyet Lan is examining a patient on March 4 (Photo: SGGP)
Dr. Le Thi Tuyet Lan, head of the Division of Pulmonary Function Test, said it is a common cause of sickness.
Last month some newspapers reported that miners in Thang Binh District were down with an apparently mystery disease with symptoms like chest pain, coughing blood, breathing difficulty, and weight loss. 
They were admitted to the province's Pham Ngoc Thach Hospital and initially treated for tuberculosis, but their condition did not improve, Dr. Tran Ngoc Phap, the hospital director, said.
Five of them were then brought to the HCMC hospital for tests. Dr. Lan said x-rays done on Lai Tan Cong, 33, Nguyen Hoang, 33, Truong Van Dao, 46, Tran Ngoc Hung, 30, and Ha Van Tien, 39, indicate tuberculosis.
Their lungs contain large quantities of dust and cannot expand during breathing, she said.
CT scans also reveal one of them has pulmonary interstitial emphysema and two have windpipe problems.
Ha Van Tien told doctors he and some fellow villagers mined for gold in 2007,  setting off bombs that produced huge clouds of dust.
Mr. Tien said at least eight people have died since the end of last year.