Rats are now running loose in several residential areas all across the country and becoming a serious threat after more and more people are being treated for rat bites.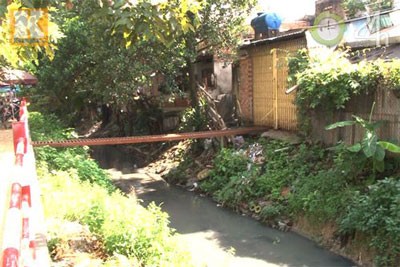 A residential quarter near a canal. Rats appear everywhere especially around the area  near canals
Dr. Nguyen Hong Ha, deputy director of the National Tropical Disease Hospital in Hanoi, said his hospital received many people for treatment of rat bites. People have been bitten while sleeping or while trying to catch the rats.
Earlier, very few rats were found in residential quarters; but now they are found everywhere. However they are in abundance in old rented houses or apartment buildings or in houses near the canals.
Fruit traders in wholesale markets in Hanoi like Long Bien, Dong Xuan or Hom are being harassed by long-tailed rodents that are destroying commodities, causing huge losses.
Professor Nguyen Lan Dung, general secretary of Vietnam Microbiology Association, spoke to a Saigon Giai Phong reporter and pointed out that the reason for the mass infestation of rats in overcrowded residential quarters is in all likelihood the filth, unhygienic conditions, choked sewer lines, polluted environment and too much edible food and garbage lying out in the open, all of which is providing a conducive breeding ground for rats.
Ngo Vinh Vien, president of the Institute for Plant Protection Research, added that another reason was the conversion of farm lands into new urban residential complexes, industrial parks, hotels and resorts for tourism, resulting in rats loosing their natural habitat and basic food resources, and hence their migration to populated residential areas.
People can kill rats in many ways, but the safest way is to use biological poisons, said Professor Dung.