Rats are proving to be a serious menace for residents of some districts in Ho Chi Minh City as they are not just devastating items in homes but also biting people and thereby transmitting dangerous diseases.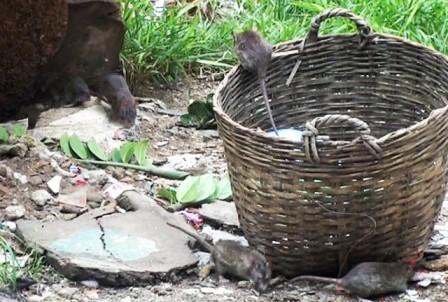 Rats are now running wild in the City because people throw food and garbage out in the open
Vo Van Thach, 57, from Binh An Ward in District 2 complained of the devastation caused by rats, while Nguyen Van Long from Linh Tay Ward in Thu Duc District said he was bitten by a rat while he slept.
City hospitals have so far treated two people who were bitten by rats. T.V.T., a 54-year-old man from District 3, was hospitalized at the Tropical Disease Hospital on October 17, after he was bitten by rats while he slept.
A few days later, he suffered high fever, cough, skin rash and low platelet count. He then developed symptoms of kidney failure.
At first, doctors suspected the patient had contracted dengue fever but later sent his sample for testing, as anti-dengue drugs had not been effective. His blood then tested positive for Hanta virus.
A week later, a 16-year-old boy, Tran Van P, was hospitalized in Phu Nhuan General Hospital with high fever after being bitten by rats.
The Pasteur Institute has reported that some of the samples taken from 25 sewer rats and house mice in Ward 9 of District 3 were found carrying the Hanta virus that can cause kidney and liver failure.
Dr. Tran Phu Manh Sieu, director of the HCMC Preventive Health Center, said the Hanta virus is found in rat excreta, such as dung, urine and saliva. When people come into contact with such excreta through the respiratory tract or through damaged skin, they may develop symptoms of kidney failure. In general, the virus can cause hemorrhagic fever with renal syndrome (HFRS) and Hantavirus pulmonary syndrome (HPS), Sieu said.
However, HPS has yet to be found in Vietnam, he added.
The most dangerous is that there are neither specific medications nor vaccines against the Hanta virus, so prevention is very important, the doctor said. Luckily, the virus is not transmitted from person to person and most cases recover after several weeks or months of treatment. Yet they can die due to rat bite if they suffer serious kidney failure and bleed too much.
Sieu added that rats are carriers of diseases and can even transmit tetanus. Hence people who are bitten by rats should go immediately to nearby medical clinics for an anti-tetanus shot.
So many rats are found in districts in the city because there is too much food and garbage lying out in the open.
People should inform the Preventive Medicine Center if they find a large number of rats in the area. In addition, when a resident is bitten by a rat, he should clean the wound with water and go to the nearest medical clinic for treatment and a tetanus shot.