After food poisoning cases caused by rancid meat the Ministry of Agriculture and Rural Development issued regulations on meat business which rules that unfrozen raw meat and its by-products are to be on sale counters within eight hours after slaughter.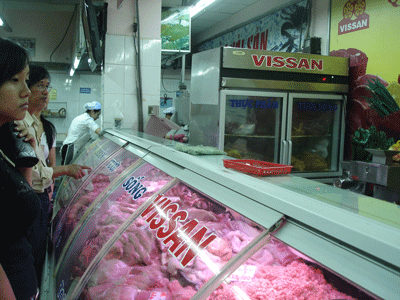 Consumers choose raw meat from the Vissan counter at Coop Mart Supermarket on Cong Quynh Street in District 1 (Photo: U. Phuong)
The regulations also stipulates that the duration of time may be extended to 72 hours, when products are kept at zero to five degrees Celsius. Stomach, large and small intestinal organs kept at zero to five degrees Celsius can be on sale within 72 hours after slaughter.
In addition, the regulations also clearly rule that raw meat and its by-products have to bear the seal of Departments of Animal Health, and sellers will not be permitted to add any chemical substances to preserve the meat products.
In related news, the Department of Health and the Food Safety and Hygiene Sub - Department in the southern province of Binh Duong forced fastfood processor Jupiter Foods VN Company to destroy all its sausage products as they were found to be full of maggots.
Earlier, Jupiter Foods VN Company's distributor Van Kim Private Enterprise in the southern province of Dong Nai had reported to related agencies that Jupiter Foods VN Company was supplying sausage products contaminated with maggots, and had demanded the company to recall these items.
Tests later proved that the product's had turned bad while in transportation or poor preservation procedures.
The regulations will be effective from September 3, 2012.