After three days of the first adult liver transplant surgery in Ho Chi Minh City, both recipient and donor have made good recovery, said Dr. Pham Thi Ngoc Thao, deputy director of Cho Ray Hospital at a press conference on October 15.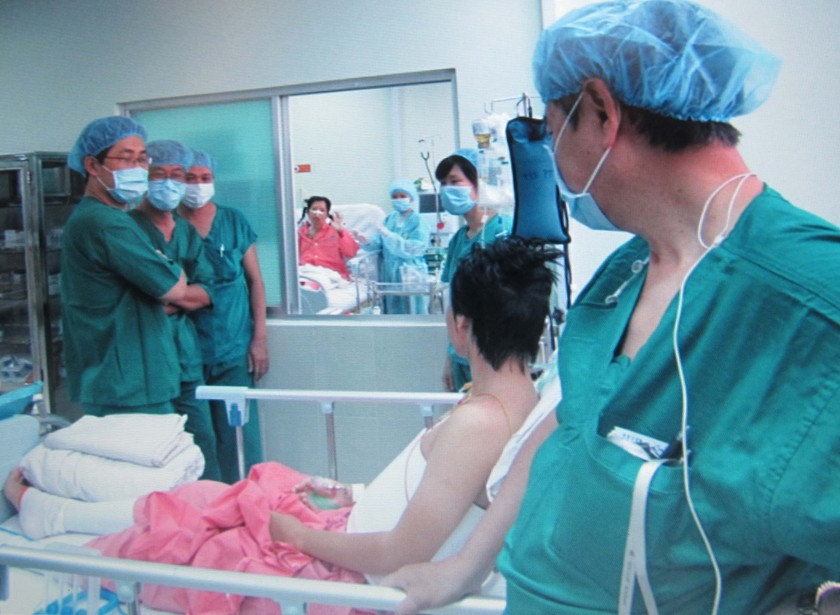 Both mother and son make good recovery after the  liver transplant surgery
The 52-year-old female recipient had suffered from liver failure since 2010. She had received the liver from her 22-year-old son, a student of information technology at the HCMC Foreign Language and Informatics University.
The boy gave his mother two-third of his liver and after 6-8 weeks, he will have a regenerated liver that will function 60-80 percent like his original liver, said Dr. Thao.
Two hours after the transplant operation, the son recovered and later had some soup and milk. Two days after the surgery, the mother and the son managed to walk, eat and talk to each other.
Blood and liver tests on the mother after the surgery showed that her health was now normal. She will be discharged from the hospital in about a month. Meanwhile, the son will continue to be monitored in an intensive care unit for 7-10 more days and will need extra care for about two weeks after that.
As previously reported, a 16-member medical team from South Korea had arrived in HCMC on October 11 to join their Vietnamese counterparts to conduct the surgery a day later.
The entire transplant procedure was conducted by 37 surgeons of Cho Ray Hospital and a 16-member Korean team. The operation took the same amount of time as a similar case performed in South Korea, said Dr. Thao.