Vietnam has put in a lot of effort to fight dengue fever and has succeeded in reducing the numbers drastically over the years; however, the figure showed an increase recently after many people returned from foreign countries from sightseeing tours, business trips or expat laborers.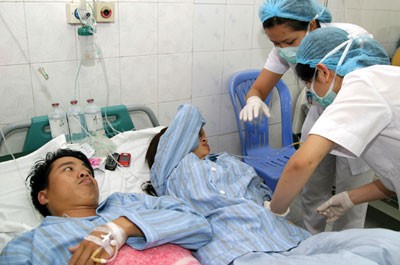 Medical workers are treating dengue fever in the Central Tropical Disease Hospital in Hanoi (Photo: SGGP)
Since the beginning of 2013, among the most infectious diseases in the country, figures in dengue fever had slumped, said Tran Dac Phu, Deputy Head of the Department of Preventive Medicine under the Ministry of Health.

As of July 2013, the country had around 17,000 dengue fever patients including 42 suffering from acute fever and three reported fatalities.
The figure has dropped by nearly 3,000 cases against the same period last year but the numbers of deaths are the same.

Phu said despite decreased numbers, the disease had become more complex as more expat workers returned carrying the virus. For instance, many people returning home from Angola and Cameroon contracted the disease and 130 of them tested positive with one fatality.

Dr. Nguyen Trung Cap, Deputy Chief of Emergency at the Central Tropical Disease Hospital in Hanoi, said of nearly 40 cases of dengue fever, eight suffered from acute dengue fever, all of them being expat laborers from Africa and Laos.

As dengue virus is still circulating in the country, the outbreak of the disease is a real challenge to the medical sector. Experts warned that it can lead to drug resistance.

Dr. Tran Thanh Duong, Director of the National Institute of Malariology Parasitology and Entomology, said as some provinces have had no dengue fever cases for years, medical workers are unaware of treatment, especially medical clinics in districts.
For instance, medical workers in a clinic in Ung Hoa District in Hanoi diagnosed an expat patient returning from Angola with pneumonia.
After two weeks of treatment at the clinic, the patient's condition worsened. Later he was transferred to a big hospital where he subsequently died due to late treatment.

One medical worker said that a patient contracting dengue fever will suffer tiredness, poor appetite and sometimes have sore throat, running nose and headache; consequently, they usually think they have a cold and self-medicate. When their condition worsens it is probably too late.

In addition, the rainy season is conducive to the outbreak of dengue fever. Accordingly, Dr. Duong warned expat laborers and travelers who returned from dengue fever infected zones to visit hospitals right after they experience fever for timely treatment.

Study conducted by the National Institute of Malariology Parasitology and Entomology showed that the central province of Quang Nam; Gia Lai and Dak Nong in the Central Highlands and Binh Phuoc in the South have a high number of dengue fever patients with drug resistance.
As a result, the institute has expanded prevention methods in 14 provinces in Vietnam.