The National Institute of Hematology and Blood Transfusion on June 3 held a press brief in Hanoi to announce the first 'Red Trip Program', a humanitarian program to arouse mutual affection among communities in Vietnam.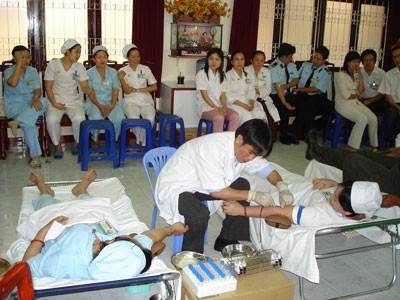 Tu Du employees donate blood (Photo: U. Phuong)
At the press brief, Professor Nguyen Anh Tri, President of the National Institute of Hematology and Blood Transfusion, said the program concentrates on propaganda to encourage people to donate blood.
Local governments have made concerted efforts with support of public and media as well as volunteers to contribute to remedy blood shortage in summer season.
The program expects to collect 12,000 blood units in 30 days from all provinces across the country. In addition to encouraging people to donate blood, the program also focuses on raising people's awareness of thalassemia for which treatment often involves regular blood transfusions and folate supplements, as well as call for community care for these patients by sending messages to directory assistance 1403.
The program will last from July 7-28 in 35 provinces and cities, starting with the Mekong delta province of Ca Mau on July 7.
The program will run in two stages. The first stage will start from Ca Mau then move to 11 provinces including Mekong delta city of Can Tho, Ho Chi Minh City, the highland province of Lam Dong, Dak Lak, the central province of Nghe An to Hanoi; the second stage will be from the northern province of Dien Bien to Hanoi.
The program will be launched throughout the country with the participation of 5,000 volunteers, 150 artists and singers, and more than 200 organizations and firms.
In response to the blood donation program, Vietnam National Textile and Garment Group launched a voluntary blood donation among employees across the country.
More than 2,000 of their employees in Hanoi, the northern province of Nam Dinh, the central city of Da Nang and Ho Chi Minh City will participate.
In HCMC, around 1,160 people from 39 textile and garment firms will register to donate blood on July 1 and 2.